Sunday, July 6, 10am – 1pm, All Are Welcome!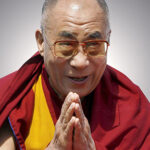 His Holiness the Dalai Lama is the spiritual leader of the Tibetan people and a Nobel Peace Laureate. He frequently states that his life is guided by three major commitments: the promotion of basic human values in the interest of happiness, the fostering of inter-religious harmony and the preservation of Tibet's Buddhist culture, a culture of peace and non-violence.
As practitioners of Tibetan Buddhism, ...
Continue Reading →
Share